Man sorting through the biomedical waste sector of the Truitier Landfill
The whitish mountains in the background are debris from broken homes due to the earthquake in 2010. They put the rumble through compressors that break up the material into gravel. It is the largest of all sectors at the landfill. Over 1 million persons became homeless due to the earthquake with a magnitude of 7.0.
Man scoops up flour in a landfill
A bag of flour bursts open as it is dropped into the landfill. This man kneeled down to salvage as much as he could from the landfill floor for reuse.
Living among Truitier
There is a community of people who live on the perimeter of the landfill. They place the recyclables outside there huts. The kids line the plastic bottles up on the entry way of the landfill so that the trucks will crush them for they become more compact for packaging this way.
Photographers unwanted
Many people cursed at me for having a camera which is something I understand. The people of Haiti were exploited by photographers after the earthquake. This boy spoke English very well and explained his concern with my intentions. He migrated here after the earthquake. Like many before who lost a family, a home, a school and an opportunity for a better alternative, he agreed to be photographed and was curious but made it clear that those who lost so much would not feel comfortable.
Before the earthquake
I sensed the people who already were living from the landfill before the earthquake were much more open with my presence because they were already comfortable with their lifestyle.
Abraham
Abraham is 13 years old. He is one of the 200 original landfill dwellers that lived there before the earthquake. The earthquake had created over 2000 landfill dwellers. This friendly, relaxed boy told us how he searches through the landfill to find food to feed the animals and live stock that linger around his home settled close by.
Weigh station
Scales like this is a tool you will find at all landfills where you find people recycling. Lights are in the distance that turn on during the night, for the landfill is open 24 hours 7 days a week nonstop.
SMCRS
SMCRS is Haiti's main and most organized means of trash clean up in Port au Prince, but it can not possibly complete the job at this point. Many streets are broken or inaccessible by garbage trucks. Trash dumping on the street or in ditches occur because people do not have proper trash disposal options.
Ditching trash
When resources for discarding trash is limited, locals are forced to use a hill or ditch as a makeshift "landfill." this is a common occurrence in Haiti and it's due to a lack of trash pickups and inconvenient locations for trucks to reach to.
Trash burning
If trash is not picked up or ditched, then it is also common to burn trash. This can happen at families homes or at a larger site shared by a community.
Making peace
These boys were hanging out in an abandoned landfill at an area closer to the shore where many of the people resettled after the earthquake. Here boys were burning material to get to the metal for resale. This man tried to intimidate me with slight hostility and sarcasm about me photographing him. However, I was able to make peace with the guys and gave them money for their trouble.
Jedco cleaning up Haiti
Marketing Director of Jedco Services, Polyanna Domond, shows off alternative uses of "garbage." Red sandals made from rubber tires, very durable and comfortable. She holds a purse made from trash bags. Behind her are other accessories made from candy wrappers. Polyanna has a beautiful home in Jacmel made almost entirely by recycles, a service Haiti Communitere offers, alternative building and resourcing.
Building alternatives
A student working at Haiti Communitere, where you will find a world of alternatives. Building homes from styrofoam and bottles, beautiful and fun furniture made from rubber tires and even goldfish composting straight into soil to create fresh and vibrant basil. A multitude of valuable skills are taught here.
Water clean up and excrement into propane
Jedco and Dinepa had teamed up to create this project for cleaning water and excrement to convert it into propane gas. 40,000 gallons of dirty water is shot into these pools each day. It is slowly filtered through multiple pools until the water is cleaner and propane can be produced for cooking. This is a great idea because deforestation is a huge problem in Haiti due to the very common burning of trees to create coal for cooking. However, this project ran out of it's ten year contract and now is up in the air.
Lack of maintenance
The funding to make this excrement and dirty water into propane gas ran out and it's two supporters Jedco and Dinepa have not opened a new contract. In this image, air bubbles were formed and normally need attention immediately for it can run the risk of popping, allowing the unclean water to seep into the earth. Currently, the project is cleaning water but it's not being kept up properly or making the propane energy that it intended due to this lack of funding.
The final filter
After the water is filtered over and over through different pools, it ends up in this concentrated process that prepares the water for reuse through propane energy. Unfortunately, the contract ended before any propane could be produced. However, this leaves an opportunity for an energy company to invest into it and continue this process before the project is shut down entirely. If someone has inquires or ideas on how to save this project then please email me.
Moving onto Jacmel
Less chaotic, less intense and yet less developed then Port au Prince, Jacmel is a very friendly, safe and beautiful place under construction. Some day Jacmel will become a tourist hotspot.
Jacmel life
A charming place with many gorgeous beaches. Life is slow and the people are very friendly. There is no electricity everyday from 4am-12pm because the town pays for it and can not afford to keep it running 24 hours.
Reactions to tourism
Overall, people like the new president Michel Martelly because he has made improvements to Haiti. He paved a complete road from Port au Prince to Jacmel. He is also restoring the run down airport in Jacmel and making it international. This will create a lot more jobs and a lot more tourism for Jacmel. The community is optimistic and excited for all of this.
Catch of the day
Jacmel consists of many beautiful beaches but one is especially dirty, particularly during high tide when it blends with a bay, that connects to a little river that connects to a land dumping. Here a boy who was fishing nude in the water shows off his dinner in front a brown coast and unsanitary area of the beach.
High tide to bay
This corner of the beach is created when the high tide meets the bay where children fish for dinner in the polluted water. If tourism is expected to increase after the airport is done then this area could get much worse and at a main beach area where a boardwalk is being created, attracting more people to this spot. This area could be a great opportunity for a company to clean it up.
Families recycle
Trash gets tossed around during high tide and settles again the next day. Locals clean up their neighborhood and recycle the bottles.
Children cleaning Jacmel's coast
Two kids proudly pick up bottles and recyclables from a beach that turned into a land dumping from the oceans high tide that blends with a polluted bay and river. The little girl sports a shirt from Dinepa, a company that makes water clean.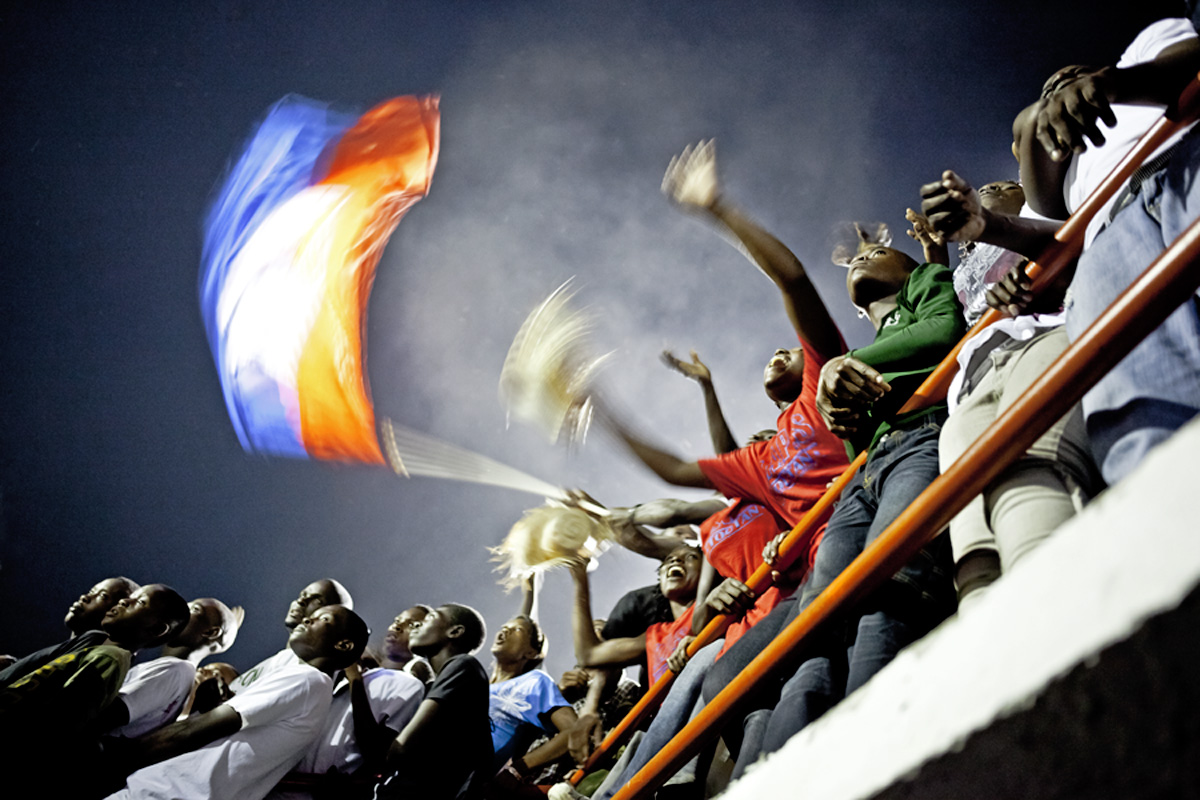 The future
Haiti struggles, but it's getting better. Whether it is in education, rebuilding, electricity, clean water, solid waste disposal...there is an orgmthat one can join. It is a friendly and beautiful country that will develop more quickly with tourism. People are smart, charismatic and eager to grow, learn, work, and prosper, but many are left without jobs and theirs opportunities are limited. However, there is so much to explore in Haiti. Their story will open your heart and I promise you will Love Haiti.